Indian media: Trade deficit fall 'good news' for economy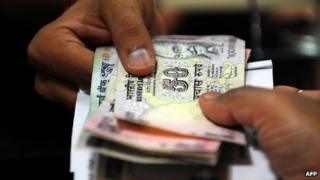 Media feel India's struggling economy received some "good news" on Wednesday after the country's trade deficit dropped to its lowest level since early 2011.
The trade deficit fell to $6.7bn in September from $10.9bn in August due to a surge in exports and a drop in imports of gold and silver, reports say.
Industry experts are now hoping that the contracting trade deficit will help India reduce its current account deficit which was a whopping $88bn at the end of last fiscal year.
"Going ahead, we expect the current account deficit (CAD) to fall significantly in the third and fourth quarters of 2013-14 on narrowing trade deficit. CAD is expected at around 3.8% of GDP in 2013-14 compared with 4.8% in 2012-13," The Economic Times quoted analyst Suman Jyoti Khaitan as saying.
The First Post website says the dip in the trade deficit has brought some good news for India's ailing economy.
"In encouraging news for the beleaguered rupee, India's trade deficit - the difference between imports and exports of goods and commodities - fell to a two-and-a-half-year low," says The Hindu.
Meanwhile, Commerce Minister Anand Sharma has dismissed International Monetary Fund's (IMF) projection that the Indian economy will grow at 3.75% in the current fiscal, reports say.
"I reject the IMF numbers. The Indian economy is seeing a turnaround both in terms of growth in manufacturing and domestic demand and a buoyancy in exports," the Deccan Herald quoted Mr Sharma as saying.
Planning Minister Rajeev Shukla backed Mr Sharma's assertion, saying the economy will grow at over 5%, the CNN-IBN website reports.
Meanwhile, some newspapers are describing Oil Minister Veerappa Moily's "fuel-saving" metro train ride as mere "tokenism".
"Moily's symbolism is not accompanied by any move to reduce the guzzling of petrol and diesel by ministers," the Manorama website says.
Mr Moily says he does not wish to force others to follow his austerity drive.
"I want people to realise on their own that fuel conservation is a must to save the country and its economy," the Hindustan Times quotes him as saying.
New Pakistan envoy
Meanwhile, Pakistan has decided to replace its envoy to India amid tensions along the Line of Control that divides the disputed region of Kashmir between the two nations.
Syed Ibne Abbas will replace Salman Bashir as Pakistan's new high commissioner to India, The Hindu reports.
Meanwhile, the Hindu festival of Durga Puja will be celebrated for the first time in Pakistan.
"Every year we celebrate [the Hindu festival of] Dussehra with pomp. This year we have decided to organise Durga Puja too," the Hindustan Times quoted the president of the Pakistan Hindu Council, Jethanand Doonger Mal Kohistani, as saying.
The festival will be celebrated at a 150-year-old temple in Karachi, the paper says.
Elsewhere, a court has acquitted 26 people accused of killing 58 Dalits (lower caste Hindus) due to a lack of evidence in the eastern state of Bihar, The Times of India reports.
The paper says a higher-caste militia had allegedly carried out the massacre in 1997.
And finally, in some good news for animal lovers, about 100 lion cubs have been spotted at a wildlife sanctuary in the western state of Gujarat, The Times of India reports.
"This is the first time foresters have seen a substantial jump in cub count," the paper says.
BBC Monitoring reports and analyses news from TV, radio, web and print media around the world. For more reports from BBC Monitoring, click here. You can follow BBC Monitoring on Twitter and Facebook.