Why women join India's Maoist groups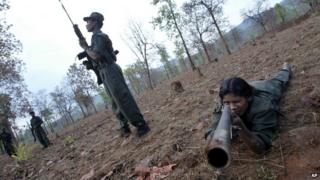 India's Maoist rebel groups are increasingly hiring more women for their operations, reports journalist Kishalay Bhattacharjee.
Rebecca, a tribal girl, is a bodyguard of a local area commander of India's Maoist rebel group in the eastern Indian state of Orissa.
Maoists, also known as "Naxalites", have been operating for more than 40 years in central and eastern India.
They demand land and jobs for the poor, and ultimately want to establish a communist society by overthrowing India's "semi-colonial, semi-feudal" form of rule.
Carrying an automatic rifle, Rebecca's face is covered with a black mesh to protect herself from malaria in the mosquito-infested jungles of Kandhamal district.
Rebecca's sister joined the rebels in 2010. After her arrest she was allegedly gang raped in police custody.
'Keep a vigil'
Her brother, she says, was also held by the security forces and "died mysteriously" in custody.
Rebecca says "state repression" drove her to take up arms and join the rebels too.
"We don't live this hard life for nothing. I had no choice but to join the revolution. Now there is no looking back," she says defiantly.
The Maoist movement started in the 1960s with a peasant uprising in a small tea garden in West Bengal state.
Analysts say that the reason more women are joining "the movement" can be attributed to the desperate conditions that prevail in India's countryside: Displacement of locals from their lands due to big business projects, grinding poverty and fear of atrocities by security forces and state-backed militia - like Salwa Judum - who are countering the rebels.
Police officials say the rebels seem to have no ideological problem in hiring more women.
"Maoists recruit women for fighting and to keep a vigil on the male cadres who may harass villagers," says Rahul Bhagat, a former police chief of the Maoist stronghold of Bastar in Chhattisgarh.
"In effect, almost half the rebel fighters are women now. Most of the men and women fighters cohabit either as married or unmarried couples."
Women rebels, police say, generally play a tactical role in operations: They are placed at the front to distract security forces.
Women fighters have led some of the major rebel attacks in India.
In May, police say, women fighters joined male rebels in the front while carrying out a deadly attack in Chhattisgarh, where 24 people, including some top state politicians, were killed.
'Disillusioned'
But a number of women fighters are also leaving rebel groups after complaining of abuse and fatigue.
"We had women from 16 to 40 years of age in our group. Almost all those I knew had experienced some form of sexual abuse or exploitation when they had stepped outside their homes to work or at the hands of security forces," says Rampati Ganjhu, a former rebel commander from the eastern state of Bihar.
"These women joined us to seek revenge but things are very different now.
"More and more of them are disillusioned and some women in particular are being abused by the male leaders."
Former woman fighter Rashmi Mahli was until 2011 an active member of a Maoist group in the state of Jharkhand. She now runs a tea shop in the town of Ranchi in eastern Jharkhand state.
Driven by poverty, she fought for the rebels but left the jungle behind in 2011.
"We were seven siblings. We lived on meagre land produce and on days we were just able to eat just one meal," she recalled.
"The Maoists would visit our village to recruit cadres. They promised a steady income for my family. There was no other way but to join them.
"I married a fellow rebel and we had a child. That changed my life. I couldn't live like that with my child. We were always in hiding and on the run. I surrendered because I wanted to live peacefully."
It is path that the security forces hopes other female Maoists will follow.