Kashmir: Indian army calls off search for militants in Keran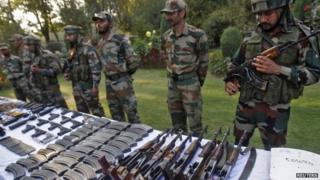 The Indian army has called off a search for suspected militants in Indian-administered Kashmir where troops have been fighting "30 to 40 Pakistan-backed militants" for the past two weeks.
Officials said militants made several attempts to enter the Keran area, sparking gun battles in which at least eight militants died.
Pakistan dismissed as "baseless" reports of infiltration from its soil.
Correspondents say this was the longest confrontation in more than a decade.
"I have given directions to call off the concerted search operation," Lt Gen Sanjiv Chachra told reporters on Tuesday after visiting the Line of Control (Loc), the de facto border that divides the disputed territory of Kashmir between India and Pakistan.
He said the "sanctity of the LoC will be maintained" and additional troops would be deployed to stop any further infiltration of militants from Pakistan into Indian territory.
On Monday, the Indian army said it had found a large haul of weapons. Officials also said eight bodies of militants had been recovered from the scene.
Media reports in India have compared the clashes to the limited war India and Pakistan fought in 1999 in the Kargil region, but Indian army chief Gen Bikram Singh has said there was "no Kargil-like situation" in Indian-administered Kashmir.
He denied reports that the militants had occupied the village of Shala Bhata near the Line of Control.
Pakistan also denied reports of militants making incursions from Pakistani soil.
"The narrative you are hearing about incursions and infiltrations is baseless," Pakistani high commissioner to India Salman Bashir said on Sunday.
Claimed by both countries in its entirety, Kashmir has been a flashpoint for more than 60 years.