Telangana: Protests hit public services in India state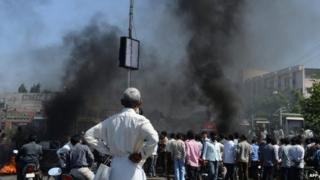 Widespread protests by government employees against the formation of the new state of Telangana have crippled public services in the southern Indian state of Andhra Pradesh.
A strike by more than 30,000 power workers has resulted in lengthy power cuts across the state.
Rail and air traffic have been badly hit while hospitals and emergency services are using generators.
Water supplies and mobile phone services have also been affected.
The latest round of protests began after India's cabinet on Thursday approved the setting up of the new state of Telangana.
The protesters say they do not want Andhra Pradesh split in two to create the new state.
They say the move will divide the Telugu language-speaking population and are unhappy that the state capital, Hyderabad, home to many major information technology and pharmaceutical companies, would become a shared state capital.
But supporters of Telangana say the region, comprising 10 districts of the southern state, including Hyderabad, has been neglected by central government.
Meanwhile, leaders of two major opposition parties in the state are continuing their indefinite fast demanding that the plans to divide the state be scrapped.
The president of the regional YSR Congress party, Jaganmohan Reddy, has been on hunger strike for the past four days while former chief minister and leader of the Telugu Desam party Chandrababu Naidu began his fast on Monday.
On Tuesday, officials said power generation in Andhra Pradesh was reduced by 4200MW as two major thermal power generating plants had stopped working.
Life in at least 13 districts has been badly hit with power cuts closing cash machines, petrol pumps and cable TV services.
Dozens of trains have been cancelled or curtailed and airports are working on backup power supply.
The power supply to some of the neighbouring states has also been affected.