Kashmir: Indian army makes 'large haul' of arms and ammunition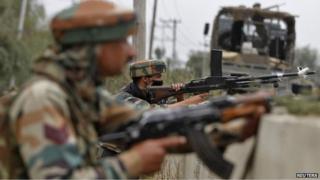 The Indian army says it has found a large haul of weapons in Indian-administered Kashmir where troops have been fighting "30 to 40 Pakistan-backed militants" for the past 14 days.
The weapons were recovered in the Keran area, an army spokesman said.
Correspondents say the fortnight-long clashes in Kashmir are the longest in more than a decade.
Pakistan has dismissed as "baseless" reports of infiltration into Keran by militants from its soil.
"The narrative you are hearing about incursions and infiltrations is baseless," Pakistani high commissioner to India Salman Bashir said on Sunday.
"A large haul of seven AK47 rifles and war ammunition has been recovered. The recovery made by the army makes the designs of militants amply clear," Col Sanjay Mitra told reporters on Monday afternoon.
The army displayed before reporters the weapons, medicines, radio sets and food which it said had been seized from Keran.
Media reports in India have compared the clashes to the limited war India and Pakistan fought in 1999 in the Kargil region, but on Friday, Indian army chief Gen Bikram Singh said there was "no Kargil-like situation" in Indian-administered Kashmir.
He denied reports that the militants had occupied the village of Shala Bhata near the Line of Control (LoC), the de facto border which divides the region between India and Pakistan.
Claimed by both countries in its entirety, Kashmir has been a flashpoint for more than 60 years.
Bilateral ties have been strained over recent clashes in the disputed region.
Last month, at least 10 people were killed when militants stormed a police station and an army camp in the Poonch area of Indian-administered Kashmir.