India state: Telangana protests trigger power cuts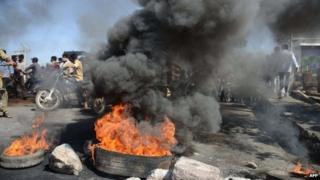 Power cuts have crippled life in the southern Indian state of Andhra Pradesh after protests against the formation of the new state of Telangana.
More than 30,000 power workers are on strike to protest against the decision.
Meanwhile, the former chief minister of Andhra Pradesh, Chandrababu Naidu, has begun a protest fast against the state's division.
Telangana would comprise 10 districts of the southern state, including the city of Hyderabad.
In recent years, there have been protests for and against the creation of India's 29th state.
Backers of the new state say the area has been neglected by the government.
Opponents are unhappy that Hyderabad, home to many major information technology and pharmaceutical companies, would become a shared state capital.
Power plants hit
Power generation in Andhra Pradesh has been reduced by 4000MW as several thermal and hydel power generating plants have stopped working.
Life in at least 13 districts has been badly hit with power cuts closing cash machines, petrol pumps and cable TV services.
Nearly 50 train services have been cancelled or curtailed. Visakhapatnam airport and several major hospitals across the state have also been affected.
Unscheduled power cuts have started in the state capital and India's sixth biggest city, Hyderabad.
The power supply to the neighbouring state of Tamil Nadu has also been affected.
Power sector workers say their strike will continue until the decision to divide Andhra Pradesh is withdrawn.
India's cabinet approved the setting up of the new state at a meeting on Thursday evening.
Soon after the announcement, those against the decision staged rallies, held protests and called a 48-hour strike in parts of the state that shut down schools, colleges, public transport and businesses.
Four federal ministers from Andhra Pradesh also offered their resignations - but they were not accepted.
Meanwhile, violent protests have been reported from the town of Vijayanagaram, where a curfew was imposed on Saturday.
Telangana, with a population of 35 million, comprises 10 of Andhra Pradesh's 23 districts. Hyderabad will be included in the new state, although for the first 10 years it will serve as the joint capital of the two states.
The final decision on a new state lies with the Indian parliament. The state assembly must also pass a resolution approving the creation of the new state.
Correspondents say the timing of the announcement is linked to general elections due early next year. Recent opinion polls have shown that the Congress party is struggling in the state, which has 42 parliamentary seats.
The move to create Telangana has sparked similar demands in the states of West Bengal and Assam.