India announces state election dates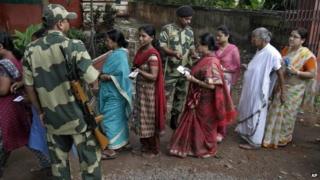 Assembly elections will begin in five Indian states next month, the Election Commission of India has announced.
Voting will be held in Madhya Pradesh, Delhi, Rajasthan, Chhattisgarh and Mizoram, Chief Election Commissioner VS Sampath said.
Polling will be held from 11 November to 4 December. Votes will be counted on 8 December.
Correspondents say the polls will give a sense of how the electorate may vote in the general elections due in 2014.
Corruption and high inflation are expected to be major factors in these elections.
Mr Sampath said a total of 110 million voters will be eligible to cast their votes in the five states.
Voting will be held in the central state of Chhattisgarh in two phases on 11 November and 19 November.
The capital, Delhi, and the north-eastern state of Mizoram will vote on 4 November.
Madhya Pradesh in central India will go to the polls on 25 November, while the western state of Rajasthan will vote on 1 December.