Indian media: Digital tour of India's monuments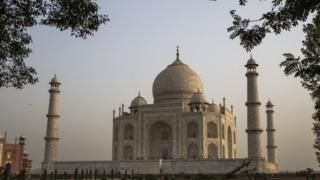 Media are reporting that Google and the Indian government have joined hands to create a virtual tour of the country's top 100 heritage sites.
The Archaeological Survey of India (ASI) and the tech giant's project will create "360 degree imagery" of popular monuments like the Taj Mahal and the Khajuraho temples.
Reports say this initiative will take India into "an era of digital tourism".
"Many heritage sites of India are accessible to very few people. But, now with the help of technology and the government's help, these sites will be available for the world to experience online," Rajan Anandan, vice-president and managing director of Google India, told the Business Line newspaper.
Pravin Srivastava, chief of the ASI, says this project will not only make the monuments more accessible but also "digitally preserve India's heritage for future generations".
"The collaboration, which will create virtual walkthroughs of our sites, is a gigantic step and, with ASI completing its 150th year, this will prove to be a big milestone for us. The aim of this project is to bring the heritage of our country closer to the people and to disseminate among the youth our rich cultural legacy," the Business Standard quotes Minister of Culture Chandresh Kumari Katoch as saying.
Moving on to political news, newspapers are discussing former federal minister Laloo Prasad Yadav's political future after a court sentenced him to five years in prison on Thursday in a notorious corruption case known as the "fodder scam".
His family members say he will appeal against the verdict.
Yadav, an MP from the eastern state of Bihar, cannot run in the 2014 general elections because a Supreme Court order has barred convicted lawmakers from polls.
Hindi daily Amar Ujala says that Yadav's sentencing almost spells the end of his four-decade-long political career.
The paper adds that the Rashtriya Janata Dal party chief's sentencing is likely to become a lesson for other politicians.
The Hindustan Times, however, says writing him off "would be an over-interpretation".
"He is no stranger to wielding power without holding office; an experience that should come in handy now. Assuming that Laloo gets no relief from the higher court, Rabri Devi (the politician's wife and ex-chief minister of Bihar) in all probability will run the party on his directions. A stay on the sentence by a higher court and a release on bail will give him an opportunity to whip up sympathy among his core constituents," the paper adds.
Imperial India collection
Meanwhile, the spread of dengue fever in Delhi has "taken on the nature of an epidemic", The Times of India reports.
It has "pushed Delhi resident into severe panic mode" and people "fear a horror situation similar to 2010 where over 6,000 cases were reported", The Pioneer says.
And finally, a sword used by Tipu Sultan - the Indian king famed for resisting British rule - will be sold at Sotheby's first-ever auction of Imperial India collection in London on 9 October, the NDTV website reports.
The sword has a decorated personal emblem of the ruler, the "bubri" or tiger-stripe motif, engraved on it, the website adds.
Tipu Sultan is considered to be one of the most accomplished and daring rulers of pre-colonial India, who devised campaigns which inflicted humiliating defeats on the British.
An 18th-century diamond set, an enamelled gold tray and casket from the Mughal courts are also on display, the website reports.
BBC Monitoring reports and analyses news from TV, radio, web and print media around the world. For more reports from BBC Monitoring, click here. You can follow BBC Monitoring on Twitter and Facebook.