Indian media: Remembering Gandhi's teachings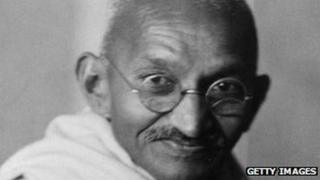 Media are paying tributes to independence leader Mahatma Gandhi on his 144th birth anniversary and feel his teachings remain "compellingly relevant" in present-day India.
Gandhi - known as "the father of the nation" - spearheaded a non-violent campaign against the British Raj that culminated in India getting its independence in 1947.
Newspapers say the Gandhian values of peace and non-violence have not lost their meaning even 65 years after the leader's death.
"As amoral politicians stoke Hindu-Muslim violence in Uttar Pradesh, as Dalits are attacked in southern Tamil Nadu for asking for rights guaranteed by the Constitution, as Naxalites (Maoists rebels) in Orissa and jihadis in Kashmir intimidate and kill in pursuit of their political programme, as male patriarchs all over India suppress and brutalize women - the life and example of Mohandas K. Gandhi remain compellingly relevant," noted historian Ramachandra Guha writes in the Hindustan Times.
Even as questions arise over the significance of non-violence in today's world, author Rajni Bakshi writes in The Hindu that "history has shown by numerous examples that in the constant duel between the forces of violence and non-violence, it is the peaceful method that triumphs".
Author Vivek Shukla, in his article in The Pioneer, says that Gandhi "continues to fascinate historians, journalists and his descendants alike".
Meanwhile, a court in the northern state of Rajasthan on Tuesday rejected the bail application of controversial Indian spiritual guru Asaram Bapu, who is accused of sexually assaulting a 16-year-old girl, reports The Hindu.
He denies the allegations.
Elderly evicted
Elsewhere, at least 135 elderly people have been evicted from a charity home in Delhi, the Hindustan Times.
The charity home, which provided shelter to homeless elderly citizens, disabled people and survivors of sexual attacks, could not renew its lease and was told to vacate the premises, the report adds.
The residents have taken shelter near a prominent shopping area in south Delhi and are sleeping on plastic sheets, it says.
India ranks 73rd among 91 countries recently surveyed by the UN to judge the quality of life for elderly people, reports The Times of India.
In sports news, former Australian cricketer Michael Hussey has "openly" suggested in his new book that Gurunath Meiyappan, the son-in-law of Board of Control for Cricket in India chief N Srinivasan, was in charge of the Chennai Super Kings (CSK) team in last year's Indian Premier League (IPL) edition, reports the NDTV website.
Mr Meiyappan was arrested over allegations of illegal betting in the IPL in June. He denies the allegations and has been released on bail.
His arrest and intense media pressure had forced Mr Srinivasan to "step aside" from his post in June.
Hussey, who plays for the CSK, has made these remarks despite Mr Srinivasan's stance that his son-in-law was just a "cricket enthusiast" and had no role to play in managing the IPL team.
And finally, in good news for Bollywood fans in Egypt, Indian films will be screened in local cinema halls after 25 years, reports The Indian Express.
Bollywood films were extremely popular in Egypt in the 1980s but their screenings gradually stopped after the local film industry lobbied with the Hosni Mubarak-led government to put protectionist restrictions.
"The return of Indian films marks an important step in strengthening people-to-people ties," the paper quotes Indian ambassador to Egypt, Navdeep Suri, as saying.
BBC Monitoring reports and analyses news from TV, radio, web and print media around the world. For more reports from BBC Monitoring, click here. You can follow BBC Monitoring on Twitter and Facebook.