Indian cabinet withdraws protection for convicted MPs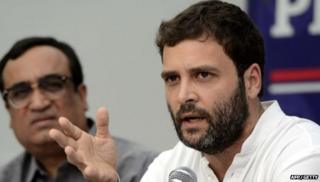 The Indian government has withdrawn a controversial order which allows convicted MPs to run for elections while appeals are pending.
The decision was made after PM Manmohan Singh met Congress party leader Rahul Gandhi who had opposed the order.
It overruled a Supreme Court directive which bans convicted lawmakers from running for office.
Campaigners had called the Supreme Court's order a major step in cleaning up Indian politics.
The controversial ordinance had been sent to President Pranab Mukherjee for approval, but the cabinet withdrew it after meeting on Wednesday.
It has been criticised by the Indian media and analysts who have described it as a threat to electoral reforms.
Embarrassment
Several leaders of the main opposition Bharatiya Janata Party (BJP) and some Congress party politicians had also criticised the decree.
And in an uncharacteristic outburst last week, Mr Gandhi said it was a "complete nonsense" and "should be torn up and thrown away".
Mr Gandhi - the son of former Prime Minister Rajiv Gandhi - is seen as the pre-eminent leader within the Congress party and his comments were a huge embarrassment to the government as ministers had been defending the order.
Prime Minister Singh was on an official trip to the US when Mr Gandhi made his remarks.
Media reports say that the two met on Wednesday morning ahead of the cabinet meeting.
In July, the Supreme Court ruled that convicted MPs and state legislators would be barred from office if they were sentenced to imprisonment for two years or more.
The move was welcomed by campaigners who want major reforms in Indian politics, which has been beset by corruption scandals.
Two senior former ministers, who were sent to prison in corruption cases in recent days, face disqualification from parliament after the court order.
More than 150 MPs in the 543-seat lower house of parliament are said to be facing criminal charges.
Delhi-based election watchdog Association for Democratic Reforms says across the country there are 1,460 serving lawmakers facing criminal charges.