India tortured teenage servant rescued in Delhi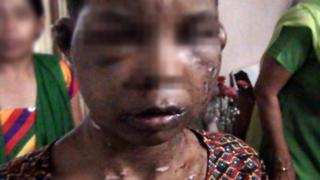 A teenager working as a servant in the Indian capital is recovering in hospital after being rescued from her employer's home where she was allegedly beaten and slashed with sharp weapons.
Her employer, a 50-year-old woman, has been arrested, police said.
Anti-trafficking campaigners who rescued the victim said she was 15 years old, but police said she was 18.
The assault has focused the spotlight once again on the abuse of domestic servants in Indian cities.
Millions of women and children, both boys and girls, from poor families are employed in India as domestic servants and stories of abuse and exploitation are not infrequent.
Last year, police arrested a doctor couple who had locked up their 13-year-old domestic servant in Delhi's Dwarka district and gone on holiday to Thailand.
Neighbours had alerted police and activists after they heard the girl crying and screaming for help from the balcony.
'Never seen such violence'
In the latest case, the victim, a tribal from the eastern state of Jharkhand, was rescued from South Delhi's Vasant Kunj area on Monday evening and taken to hospital with severe injuries on her face, head and back, the BBC Hindi's Faisal Mohammad Ali reports.
"In years of rescuing girls or children I have never seen such violence," Rishi Kant from the anti-trafficking group Shakti Vahini told the BBC.
"There was severe head injury, we could see some kind of bite marks on her body, we immediately rushed her to the hospital as we feared that she may develop some infection," he said.
Police say her employer is accused of "causing grievous injury by dangerous weapon, wrongful confinement and keeping her as bonded labour", our correspondent adds.
"It is horrible and barbaric," Delhi's minister for women and child development Kiran Walia told reporters after visiting the victim in hospital.