Yuvraj Singh returns to India cricket team for Australia series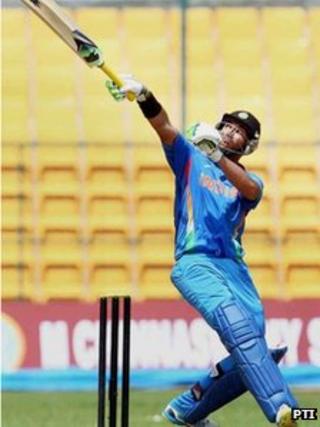 Indian cricketer Yuvraj Singh has returned to the 15-man squad for the upcoming series against Australia.
Yuvraj, who made a comeback last year after battling a rare form of lung cancer, last played for India against England in an ODI in January.
He has been recalled after a string of high scores in a series against West Indies A and a local tournament.
In March Yuvraj released a 232-page memoir The Test Of My Life about his battle "with cancer and after it".
He has been included in the team to play a Twenty20 and the first three of the seven ODIs against Australia beginning on 10 October.
India had dropped Yuvraj out of their Champions Trophy squad and the series against Zimbabwe this year.
He was the man of the tournament in the 2011 World Cup, helping his country win the trophy for the first time since 1983.
Yuvraj is one of the most flamboyant cricketers of his generation. He played his last Test against England in December 2012.
India team for Twenty20 and first three ODIs: MS Dhoni (captain), Shikhar Dhawan, Rohit Sharma, Virat Kohli, Yuvraj Singh, Suresh Raina, Ravindra Jadeja, R Ashwin, Bhuvneshwar Kumar, Ishant Sharma, Vinay Kumar, Amit Mishra, Ambati Rayudu, Mohammed Shami, Jaydev Unadkat