Philippines hostages rescued as siege reaches end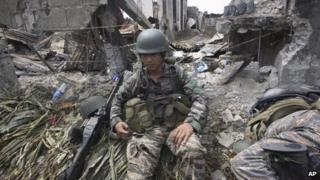 The remaining people held hostage in a deadly standoff with Muslim rebels in the southern Philippines have been rescued, officials said on Saturday.
Nearly 200 people were seized earlier this month by Moro National Liberation Front militants in Zamboanga city.
Defence Secretary Voltaire Gazmin said only a handful of rebels remained in hiding and were now being hunted.
Over 200 people died in clashes between troops and the rebels, who want self-rule in the mostly Catholic country.
"I can say that the crisis is over. We have accomplished the mission," Mr Gazmin, who oversaw the government offensive and rescue mission, told the Associated Press.
He said 195 hostages had been rescued, escaped or freed during the clashes on the island of Mindanao, 860 kilometres (540 miles) south of Manila.
Military spokesman Lieutenant-Colonel Ramon Zagala said on Friday about 300 gunmen had surrendered or been captured during operations.
Booby traps
He said some rebels remained at large and there were reports of sporadic gunfire and explosions in Zamboanga as commandos carried out house-to-house searches.
At least 100,000 people are reported to have been displaced by the crisis, which began on 9 September when insurgents stormed coastal communities and took residents hostage.
About 10,000 houses have been burned by the rebels or destroyed by the fighting, according to AP.
Unexploded bombs and possible booby traps still litter the area, Mr Gazmin said.
The Moro National Liberation Front is one of a number of splinter groups fighting for independence from Manila.
It is thought the group, which signed an autonomy deal in 1996 but never laid down arms, is angry at being sidelined from peace talks between another Muslim rebel group and the government.