India's Rahul Gandhi says order on criminal politicians 'nonsense'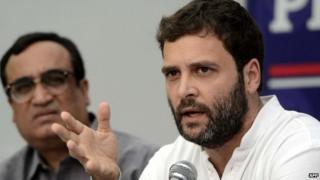 Rahul Gandhi, senior leader of India's ruling Congress, has said a move by his party's government to protect convicted MPs is "complete nonsense".
"It should be torn up and thrown away," Mr Gandhi told reporters.
His comments are being seen as a huge embarrassment to the government as ministers have defended the order.
The executive order was brought in earlier this week to overrule a Supreme Court order which said convicted lawmakers must be removed from office.
It has been sent to President Pranab Mukherjee for approval.
The controversial ordinance has been criticised by the Indian media and analysts who have described it as a threat to electoral reforms.
Several leaders of the main opposition Bharatiya Janata Party (BJP) and some Congress party politicians have also criticised the move.
Mr Gandhi is the scion of India's powerful Nehru-Gandhi dynasty and is tipped to be a future prime minister. In January, he was appointed the Congress party's vice-president.
On Friday afternoon, Mr Gandhi made a surprise brief appearance at a press conference being addressed by his party colleague Ajay Maken at the Press Club of India in Delhi.
"I will tell you what is my opinion on the ordinance. It is complete nonsense, it should be torn up and thrown away. It is my personal opinion," he said to everyone's surprise.
"The argument in my organisation [Congress party] is that we need to do this because of political considerations, everybody is doing this.
"But it is time to stop this nonsense, political parties, mine and all others.... If you want to fight corruption in the country, whether it is Congress party or BJP, we cannot continue making these small compromises. Because if we make these small compromises, then we compromise everywhere," he added.
Campaigners had called the Supreme Court's July order a major step in cleaning up Indian politics, which has been beset by corruption scandals.
More than 150 MPs in the 543-seat lower house of parliament are said to be facing criminal charges.
Delhi-based election watchdog Association for Democratic Reforms says across the country there are 1,460 serving lawmakers facing criminal charges.