India PM Manmohan Singh to hold talks with Barack Obama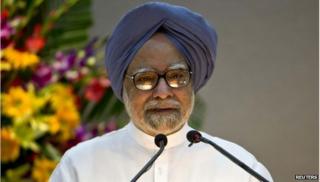 Indian PM Manmohan Singh is due to hold talks with President Barack Obama on the opening day of his visit to the US.
The two leaders are expected to discuss the civilian nuclear deal between the two countries and ways to boost trade and defence ties, among other things.
Mr Obama said in 2010 that Washington and Delhi's relationship would be one of the century's defining partnerships.
Mr Singh will also meet his Pakistani counterpart Nawaz Sharif in New York during the visit.
Peace talks between the South Asian neighbours have been stalled for the past two years. Dialogue could ease recent tensions along the Line of Control that divides the disputed territory of Kashmir between the two countries.
On Thursday, Mr Singh said the US was the most strategic partner of India.
"The US is one of India's most important trading partners, an important provider of investment and technology support for India's development, and we need the US on our side as we move to give new added trust to our development programmes," he said.
"And during President Obama's regime, we have taken several steps to widen and deepen this partnership in diverse fields," he said.
Mr Singh said the two sides would "review the progress that has been made and also what further can be done to give added meaning and content to this partnership".
In his meeting with Mr Obama, Mr Singh is expected to discuss the implementation of the nuclear deal, ways of boosting defence and trade ties, and the situation in Afghanistan after US forces leave next year, reports say.
Trade between two countries has grown from $9bn (£5.9bn) in 1995 to nearly $100bn this year.
Correspondents say India is concerned about next year's withdrawal of US troops from Afghanistan.
India has spent $2bn in aid to Afghanistan and fears the return of Taliban once the US leaves.
Mr Singh is also likely to raise concerns over proposed changes in US immigration laws which India believes will affect its skilled info-tech professionals.