Indian media: Mixed views on Pakistan peace talks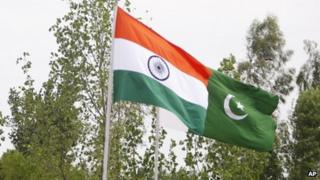 Media are expressing mixed views over India's decision to not cancel peace talks with Pakistan following Thursday's militant attack in Indian-administered Kashmir.
Security forces say they shot dead three men who stormed a police station and an army camp, killing nine people.
Prime Minister Manmohan Singh is due to meet his Pakistani counterpart Nawaz Sharif on Sunday on the sidelines of the UN General Assembly session in New York.
Peace talks between the two countries have been stalled for the past two years, and dialogue is expected to ease recent tensions along the Line of Control that divides Kashmir between the two countries.
Hindi Daily Amar Ujala argues that India must "send a stern message" to Pakistan that peace talks cannot continue amid "continuing cross-border infiltration and violence in Kashmir".
"It is Mr Sharif's responsibility to check the anti-India elements. Given Thursday's incident, that doesn't seem to be happening. Mr Singh must call off the proposed meeting under the circumstances," says The Pioneer.
Other newspapers, however, feel that militants should not be allowed to disrupt the peace process.
"Pulling out at this stage will detract from our prestige. But we should go into the talks with our eyes open and not expect too much from the resumption of dialogue at the highest level," says the Asian Age.
The Indian Express says "if past experience is a guide, the government's will can dissolve dramatically in the face of a few belligerent opposition voices and angry TV anchors".
The paper argues that Mr Singh must go ahead with the peace process and "be mindful of the imprint he wants to leave on foreign policy, not the fleeting opinions of prime-time TV".
"India and Pakistan both need to communicate in order to find ways and means to defeat terrorism, which is the common menace that threatens peace and prosperity in the region in particular, and the world in general," says The Tribune.
Meanwhile, President Pranab Mukherjee has sought clarifications from senior ministers over bringing an ordinance that allows convicted lawmakers to stay in office, The Times of India reports.
In an order in July, the Supreme Court had said that federal and state assembly members would be barred from elections and removed from office if found guilty of offences carrying a jail term of at least two years.
However, earlier this week, the Congress-led United Progressive Alliance government brought in an ordinance to "negate" the court's order and "soften the blow on convicted MPs and legislators".
Mr Mukherjee's questions come in the wake of demands from the main opposition Bharatiya Janata Party and civil society activists to reject the ordinance.
Sehwag's 'comeback'
In sports, papers are seeing out-of-form batsman Virender Sehwag's quickfire 58 (off 29 balls) as his "comeback innings".
"A leaner Sehwag emerged to play for Delhi in the Challenger Trophy, batted at No. 4, and scored only his second fifty since being dropped by India in March this year," says espncricinfo.com.
Meanwhile, veteran Bollywood actor Dilip Kumar has been discharged from a Mumbai hospital after receiving treatment for chest-related problems, CNN-IBN website reports.
The 90-year-old legendary actor had been in the intensive care unit of the hospital for 10 days, the report adds.
And finally, the economy's sluggishness seems to be having no impact on big earners as the number of millionaires in India has gone up, The Times of India reports.
According to a global wealth and investment report, India saw a 22.2% year-on-year increase in 2012 in the number of individuals who have investable assets worth over $1m, the paper adds.
BBC Monitoring reports and analyses news from TV, radio, web and print media around the world. For more reports from BBC Monitoring, click here. You can follow BBC Monitoring on Twitter and Facebook.