Indian media: Government salary review plan linked to elections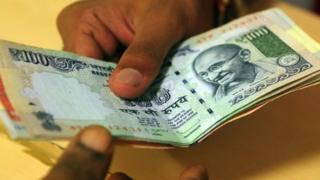 Media in India feel that the federal government has set up a panel to review the salaries of its employees in a bid to attract voters ahead of the elections.
Finance Minister P Chidambaram on Wednesday announced that the Seventh Central Pay Commission will recommend its findings in two years on raising the salaries of federal government employees, reports say.
Government workers eagerly await the pay commission's report to learn about the percentage of increase in their salaries.
But newspapers feel the government move is linked to the upcoming assembly polls in five states and the 2014 general elections.
"Days before the Election Commission announces dates for assembly elections in five states including Delhi, the central government on Wednesday announced the setting up of the Seventh Pay Commission, which promises to lead to a sharp increase in the salaries of nearly seven million central government employees and pensioners," says The Indian Express.
The India Today website says the government's "generous move" is meant to "gain the electoral mileage during the assembly elections in five states in November and the general elections next year".
NR Bhanumurthy, a professor at the National Institute of Public Finance and Policy, told the Mint newspaper that the government might have announced the setting up of the pay commission slightly early because of the forthcoming elections.
Talks with Pakistan
Meanwhile, the Reserve Bank of India has put a ban on the popular 0% interest scheme through EMIs (equated monthly instalment) offered by banks to credit card holders when they purchase consumer goods, reports say.
The central Bank believes the concept of 0% interest is non-existent "as such schemes come with a processing fee which nullifies the 0% interest benefit", the First Post website reports.
The Economic Times feels the RBI's decision is likely to play the spoiler in the upcoming festival season when people usually make more purchases.
Meanwhile, Indian Prime Minister Manmohan Singh has confirmed that he will meet his Pakistani counterpart Nawaz Sharif on the sidelines of the UN General Assembly in New York, the NDTV website reports.
"People close to the development said the meeting in New York could take place on 29 September," the Mint website says.
And finally, India plans to ease visa norms to attract more tourists amid a slump in its foreign exchange reserves, the Times of India reports.
"We are preparing for international tourism to bridge this forex crisis,'' the paper quoted a tourism ministry official as saying.
BBC Monitoring reports and analyses news from TV, radio, web and print media around the world. For more reports from BBC Monitoring, click here. You can follow BBC Monitoring on Twitter and Facebook.