Mumbai gang rape: Five suspects charged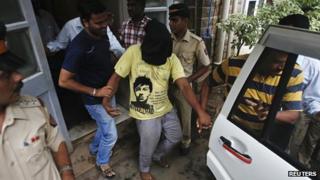 Police in the Indian city of Mumbai have charged five people over the gang rape of a photo journalist last month.
Four men were charged with five offences, including gang-rape and destruction of evidence, reports said.
A fifth suspect, believed to be under 18 at the time of the incident, was charged separately in a juvenile court.
The 22-year-old woman was attacked at an abandoned textile mill where she was on a photo assignment with a male colleague.
An intern with a Mumbai-based English magazine, she had gone to the Shakti Mills - a former textile mill that now lies abandoned and in ruins. Her colleague was beaten during the assault.
The charges will now have to be ratified by the court before the trial gets underway.
The case renewed public outrage over sexual violence in India.
There were nationwide protests last December following the gang-rape of a 23-year-old student on a bus in the capital, Delhi. She later died from her injuries.
Last week, a court in Delhi sentenced four men to death over the incident, which led to violent protests across India and new laws against rape.
A fifth accused, a juvenile, was sent to a correction facility for three years.