Indian media: Anger over bullying in Calcutta school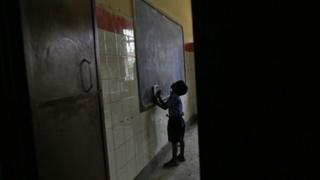 Media are highlighting the widespread anger in the eastern Indian city of Calcutta over the death of a victim of school bullying.
Local media reports say that Oindrilla Das suffered severe trauma after a group of her seniors locked her inside a toilet after school hours last week.
The 11-year-old was severely traumatised and admitted to a local hospital for treatment, The Statesman reports.
Her death on Wednesday triggered violent protests by angry parents and anti-bullying activists in the city, the Hindustan Times reports.
The NDTV website reports that "parents blamed the principal for innumerable irregularities at the school, including failure to act against habitual bullies".
The state government has now ordered a probe into the incident and the principal has been arrested by the police, reports say.
"My daughter has died, but hopefully this tragedy will ensure that thousands of children are spared of such torture in the future," The Deccan Herald quoted Jayanta Das, the girl's father, as saying.
Meanwhile, the Defence Ministry has decided to buy six more special operations aircraft, the C-130-J, from the US, The Tribune reports.
The additional aircraft will boost the Indian Air Force's capabilities in the eastern and north-eastern parts of the country, the report adds.
In business news, India's industrial production, which was in the negative territory for the last few months, has "relocated to positive zone with a growth of 2.6% in July to herald a recovery of sorts" due to a spurt in capital goods, The Hindu reports.
Rotten apples
Meanwhile, the landmark Food Security Bill has received President Pranab Mukherjee's approval and has officially become a law, The Economic Times reports.
The law aims to provide subsidised food to two-thirds of India's population.
Both houses of India's parliament had approved the bill last month.
Staying with news on food, apple farmers have been forced to leave their produce on the Parwanoo National Highway in northern state of Himachal Pradesh due to falling demand, The Tribune reports.
"Since the market is flooded with apples, we failed to get good rates…" the report quoted Ram Chauhan, a grower from Chopal, as saying.
The rotten apples are causing huge losses to framers and traders, the report adds.
And finally, the Ministry of Home Affairs has decided to appoint monkey catchers at its Delhi office, The Deccan Herald reports.
The monkeys have been posing a serious menace, by breaking flower pots and damaging property in the office premises, the paper adds.
BBC Monitoring reports and analyses news from TV, radio, web and print media around the world. For more reports from BBC Monitoring, click here. You can follow BBC Monitoring on Twitter and Facebook.