India floods: Prayers resume at Kedarnath shrine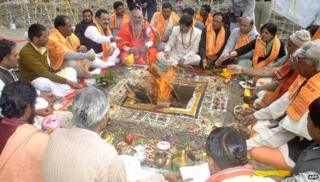 A famous Hindu temple badly damaged by floods in India's Uttarakhand state has reopened for prayers.
The temple at Kedarnath in Rudraprayag district is famous for its temple of Shiva, the Hindu god of destruction.
But it was damaged by the floods and landslides in June that affected more than 4,000 villages in the state.
The government says 528 bodies have been recovered in the wake of the floods and and more than 5,700 people remain missing.
The missing are presumed dead and their families will be given compensation, the government has said.
The floods damaged the Kedarnath temple and left a trail of death and destruction in the surrounding valley.
Reports say that despite the debris, broken temple doors and rocks strewn around the shrine, prayers were held for the first time since the floods on Wednesday.
The ceremonies began with a purification ceremony and atonement for the prolonged suspension of prayers at the temple.
A decision to allow pilgrims to the temple would be taken later this month, reports said.
The 8th-Century Kedarnath shrine is located in the high Himalayas, near the Chorabari Glacier, and is a 14km (nine miles) trek from the nearest road.
Every summer, hundreds of thousands of devout Hindus make a pilgrimage to the shrine as part of the the Himalayan Char Dham Yatra (Four Pilgrimages) to four temple towns in Uttarakhand. Badrinath, Gangotri and Yamunotri are the three other pilgrimage spots.
Last week rescue workers recovered 75 more bodies from the debris of June's devastating floods, taking the official toll to 528.