India parliament approves land acquisition bill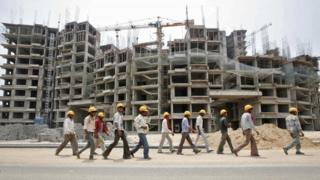 India's upper house of parliament has approved a new land acquisition bill that aims to ensure industrialists pay fair compensation to farmers.
The bill says companies will have to obtain the consent of 80% of people living on the land before acquiring it.
People will also have to be paid up to four times the market value for land acquired in rural areas and two times the market value in urban areas.
Industrialists have raised concerns over the bill's impact on the economy.
They say that it will push up the cost of acquiring land and make projects unviable.
In July the world's largest steel company, ArcelorMittal, and South Korean firm Posco separately abandoned plans to build steel plants in India because of problems acquiring land.
The new bill also says that before any land is acquired for industry, a report assessing the "social impact" of the acquisition of the land on its residents must be prepared in consultation with village councils and residents' associations.
Rural Development Minister Jairam Ramesh has told parliament there will be no forcible acquisition of land by the government under the new law.
The bill, which will replace over a century-old law, will now go back to the lower house of parliament for approval of some amendments. It will then go to President Pranab Mukherjee for approval to become law.
In a separate development, parliament also approved a law to allow foreign investments in pensions, in a move to boost a slowing economy.
The lower house has approved the Pension Fund Regulatory and Development Authority Bill, which will allow foreign companies to buy up to 26% in companies selling pensions.