New India central bank boss warns of 'unpopular action'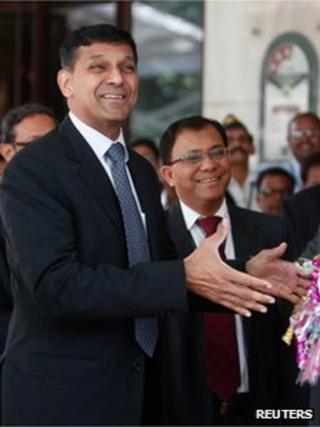 The new head of India's central bank, Raghuram Rajan, warns he will take strong measures to tackle the country's troubled economy and plunging rupee.
On his first day as governor of the Reserve Bank of India, Mr Rajan said he might have to take unpopular steps.
He takes over amid a currency crisis that has seen the rupee fall almost 20% against the dollar this year.
Mr Rajan also tried to reassure the markets, saying India's economy was "fundamentally sound".
He is credited with forecasting the 2008 global financial crisis and was formally an International Monetary Fund (IMF) chief economist.
'Right thing'
In his first public comments as governor, Mr Rajan said: "Some of the actions I take will not be popular.
"The governorship of the central bank is not meant to win one votes or Facebook 'likes'. But I hope to do the right thing, no matter what the criticism, even while looking to learn from the criticism."
He takes charge as the Reserve Bank grapples with a widening current account deficit and a slowdown in economic growth to its lowest in 10 years.
Analysts said that stemming the decline of the rupee would be the first issue that Mr Rajan had to address.
"The rupee will be Rajan's first and key challenge," said Vikas Babu Chittiprolu, a senior foreign exchange dealer at Andhra Bank.
Winning back investors
India's economy has been hurt by a range of factors in recent months. To begin with, its growth rate has been hit by a slowdown in key sectors such as mining and manufacturing.
In the April-to-June quarter, the economy grew at a rate of 4.4%, compared with the same period in the previous year.
On Tuesday, Goldman Sachs cut its growth forecast for India to 4% from 6%.
At the same time, foreign investors have been pulling out money from the country because of the government's failure to enact key reforms, as well as improving economic conditions in the US.
Some analysts have said that a slowdown in India's growth, coupled with a pick up in the US economy, have made the country less attractive to investors.
All of that has hurt the country's stock market and currency.
The decline in the rupee especially has stoked fears that India may not be able to trim its current account deficit - a key area of concern among policymakers.
The deficit, which happens when a country's import bill exceeds the earnings from exports, drains its foreign exchange reserves.
'Rock star image'
Mr Chittiprolu said that while Mr Rajan's background of having worked with the IMF would be an advantage, he would "need to win the market's faith by announcing something which helps bring in dollar inflows".
However, Rajeev Malik, a Singapore-based economist, said Mr Rajan's "rock star academic image could be a hindrance".
"That is because it has generated unrealistic hope that he has some magical prescription to fix our problems," he wrote in the Business Standard newspaper on Tuesday.
Mr Rajan is the author of a prize-winning book, Fault Lines: How Hidden Fractures Still Threaten the World Economy.