Delhi gang rape: Verdict on 10 September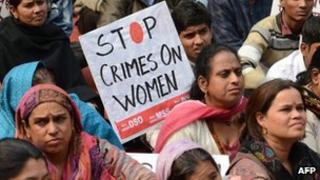 A court in India will deliver a verdict next week in the case of four men charged with fatally gang raping a woman on a Delhi bus last December.
Dismissing defence pleas for more time, the judge said: "You've delayed this trial far enough." Verdicts are due on 10 September - the case shocked India.
The four men, who deny charges including rape and murder, could face the death penalty if found guilty.
On Saturday, a teenager was found guilty of taking part in the rape.
He was sentenced to three years in a reform facility, the maximum term possible because the crime was committed when he was 17.
He also denied all the charges.
The gang rape of the 23-year-old woman last December caused uproar across India and triggered a national debate about the treatment of women.
In March, India passed a new bill containing harsher punishments, including the death penalty, for rapists.
The victim, a physiotherapy student who also cannot be named for legal reasons, was with a male friend when she was attacked on a bus and thrown from the vehicle.
Police said the assailants beat both of them and then raped the woman. She died in a Singapore hospital on 29 December from massive internal injuries.
A fifth adult defendant was found dead in his cell in March. Prison officials said they believed he hanged himself but his family allege he was murdered.