Yasin Bhatkal: India Mujahideen 'leader' flown to Delhi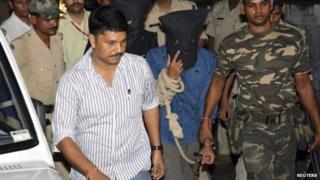 The alleged leader of the Indian Mujahideen (IM) militant group, Yasin Bhatkal, has been transferred to Delhi following his arrest in Bihar state.
Mr Bhatkal and a second suspect were flown from Patna after being remanded by a court in the town of Motihari.
Their arrest late on Wednesday night is being seen as a major breakthrough by the security services.
The Indian Mujahideen is blamed for a string of deadly bomb attacks across India in recent years.
The group is thought to be behind blasts in the cities of Pune, Bangalore, Hyderabad, Mumbai and Delhi in which scores of people were killed.
Mr Bhatkal and another alleged IM member identified as Asadullah Akhtar were detained near the border with Nepal, reports said.
The two men were brought to the airport at Patna with their faces covered by hoods before being flown to Delhi on a special plane just after midday local time, the Press Trust of India reported.
Mr Bhatkal, who officials say is a co-founder of the home-grown group, is one of the most wanted men in the country.
The 30-year-old's real name is believed to be Muhammad Ahmed Zarrar Siddibappa, but he uses a number of aliases, officials say.
The authorities had announced a reward of 1m rupees ($14,862; £9,583) for information leading to his arrest.
The group was outlawed in 2010 after Indian authorities blamed it for an attack on a German bakery in Pune in which 17 people were killed and 64 people were injured.
The IM is also blamed for three co-ordinated blasts in July 2011 in Mumbai in which 27 people were killed.