Indian media: Tata's concerns on struggling economy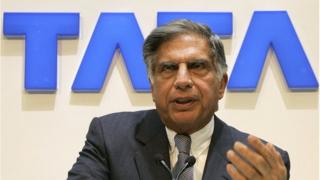 Leading businessman Ratan Tata's comment that India has "lost the confidence of the world" after the rupee's sharp depreciation is making headlines in newspapers on Thursday.
Mr Tata, who is Chairman Emeritus at the Tata Group, told a TV news channel that top investors are losing faith in the Indian economy and the government has been "slow to recognise that".
He cited a lack of clear economic policy in the government and a leadership deficit as some of the reasons behind India's poor economic performance.
"We should have one view... the team has been pulling in different directions, allies are pulling in different directions... states are pulling in one direction. We are not consolidating ourselves in the government," Mr Tata told CNN-IBN news channel in an interview.
Most of India's major newspapers are carrying Mr Tata's remarks along with reports and editorials on the rupee's slide.
"The significance of making the right moves cannot be more relevant than now when the economy seems to be falling off the deep end. A sinking rupee, which breached 68 to a dollar and is falling like a stone, rising gold and crude oil prices compounded by worries that the US might intervene in Syria and tanking share prices have made out a strong case for a departure from orthodox policy responses", the Hindustan Times says in an editorial.
Moving on to international news, India and Myanmar (also known as Burma) are planning to start talks to resolve a border dispute after some Burmese soldiers allegedly "camped" in an "un-demarcated area" between the two nations, The Hindu reports.
The Indian government, however, has rejected media reports on an alleged "intrusion" by the Burmese troops, adding that the issue came up due to some misunderstanding and it will be resolved through talks, the paper adds.
And in some bad news for foreigners, the government in the western state of Goa has decided to ban them from working or managing restaurants on beaches, the Deccan Herald reports.
Announcing the details of the tourism state's new "Beach Shack Policy", Chief Minister Manohar Parrikar said foreign nationals cannot own, manage or even work at these facilities, irrespective of the type of visa they hold.
Saving falcons
In environment news, villagers are working alongside wildlife bodies and government departments to save falcons in the north-eastern Indian state of Nagaland, The Pioneer reports.
The villagers have signed a pact with non-governmental bodies to assist the state's forest department in helping conserve the Amur flacons in Doyang Reservoir, the paper says.
In sport, newspapers are marking hockey legend Dhyan Chand's birthday by publishing interesting stories from the maverick player's life.
"India's hockey gold medal win at the controversial 1936 Berlin Olympics - counted as amongst India's greatest sporting moments - could soon be part of Indian film archives if the efforts of Dhyan Chand's family bear fruit," The Times of India reports.
At the US Open, Indian tennis star Somdev Devvarman made it to the second round after beating Slovakia's Lukas Lacko in a five-set match on Wednesday, reports the Hindustan Times.
In entertainment news, Bollywood director Apoorva Lakhia says actor Sanjay Dutt completed the dubbing for his new movie Zanjeer (shackles) from his home, just two days before his arrest in May, The Times of India reports.
Dutt is currently serving the remainder of his five-year sentence given to him for firearms offences linked to the 1993 blasts in Mumbai, which killed 257 people.
And finally, comedian and actor Russell Peters will tour several Indian cities in October, says another report in the same paper.
BBC Monitoring reports and analyses news from TV, radio, web and print media around the world. For more reports from BBC Monitoring, click here. You can follow BBC Monitoring on Twitter and Facebook.