Asaram Bapu: India guru summoned over 'sex assault'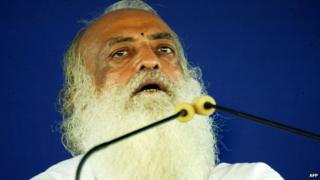 Police in India have summoned controversial spiritual guru Asaram Bapu after a 16-year-old girl accused him of sexual assault.
He has been given four days to appear for questioning, police said.
Asaram Bapu has denied the charge and says he is innocent.
Earlier this year, he was criticised for saying that the victim of the Delhi gang rape would have been let off had she called her attackers brothers and pleaded for mercy.
His views had caused outrage among many Indians.
The 72-year-old guru - whose main ashram (religious centre) is in the city of Ahmedabad in Gujarat state - has millions of followers in India and he is hugely popular for his discourses on Hindu religion and religious practices.
"Baseless allegations are levelled against me because I preach Indian culture during my discourses. In the last four-and-a-half years, I was accused of practising black magic and tantric practices but none of them stood the legal scrutiny," the Press Trust of India news agency quoted him as saying.
The girl's family say they have been followers of the controversial guru for 12 years.
In their complaint to the police, the family alleged that Asaram Bapu asked the teenager to stay back after prayers last week and assaulted her while her mother waited outside.