Second man held over Mumbai gang-rape of journalist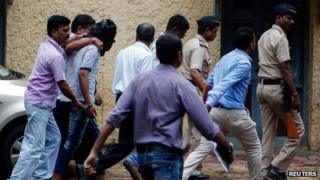 A second man has been arrested over the gang-rape of a 22-year-old journalist in the Indian city of Mumbai.
A 19-year-old man was arrested on Friday over the attack at an abandoned textile mill in the centre of the city. Three others are still being sought.
The woman, who was on a photo assignment with a male colleague at the time, is in hospital with multiple injuries. Her colleague was beaten.
The case has renewed public outrage over sexual violence in India.
There were nationwide protests last December following the gang-rape of a 23-year-old student on a bus in the capital, Delhi. She later died from her injuries.
The case led to the introduction of tougher laws against sexual violence, but many are asking whether these have had any effect.
Silent protest
Police have promised swift justice and deployed elite units to search for the suspects, sketches of whom were released on Friday.
A 19-year-old unemployed man from south Mumbai was arrested on Friday, and the second suspect was arrested before dawn on Saturday.
The victim of Thursday's attack worked as an intern with a Mumbai-based English magazine and had gone to the Shakti Mills - a former textile mill that now lies abandoned and in ruins - with a male colleague for a photo shoot, police said.
"The man [victim's male colleague] was clicking pictures on a camera while the girl was taking pictures on her mobile phone in the dilapidated building when one accused accosted them and inquired why they were there at the railway property," Mumbai police commissioner Satyapal Singh said on Thursday.
"He later called four more men to the spot. They tied the male colleague's hands with a belt and took the girl to the bushes and raped her."
The "reprehensible" attack took place between "6pm and 6:30pm", Mr Singh said.
Hundreds of demonstrators have staged a silent protest in the city, and many people across India took to social media to express their anger that another such attack had been allowed to happen.