India submarine blasts: Submarines review launched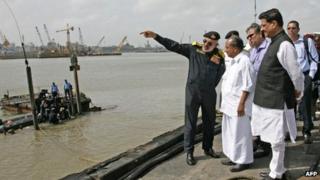 India has ordered a review of its submarines' weapons safety systems, after initial investigations showed arms on board the INS Sindhurakshak may have played a role in its sinking.
Two huge blasts and a fire sank the vessel in a Mumbai dockyard last Wednesday, with 18 sailors on board.
Divers are yet to fully access the Russian-built vessel but five bodies have been recovered so far.
Officials say it is unlikely anyone could have survived the blasts.
"Extensive checks on weapons-related safety systems and standard operating procedures on all operational submarines of the Indian navy have been ordered," defence minister AK Antony told parliament.
The vessel is mostly submerged at its port and officials say that engineers have struggled to bring it to surface because of the damage it sustained. The minister said the government was considering getting help from professional salvage agencies.
Correspondents say the disaster has cast a shadow over India's naval ambitions. Days before, India launched its first home-built aircraft carrier.
The submarine was believed to be fully armed at the time of the accident and this has led investigators to look at the role of the arms on board.
"Preliminary investigations indicate that the explosion was due to the possible ignition of armament. The cause of ignition is, however, yet to be established. Forensic examination would throw more light into the possible cause of ignition," Mr Antony is quoted as saying in India's Economic Times newspaper.
On Thursday night, the navy released the names of the 18 missing crew, which included three officers and 15 sailors.
The INS Sindhurakshak is one of the 10 kilo-class submarines bought from Russia between 1986 and 2000. It is equipped with Russian Club-S cruise missile systems.
The vessel had recently been upgraded at a cost of $80m (£52m) and it was armed with missiles and torpedoes.