Indian media: PM in election appeal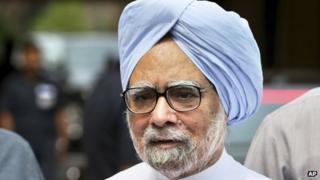 Media in India feel Prime Minister Manmohan Singh's Independence Day speech was aimed at wooing voters ahead of the general elections due next year.
The Hindustan Times said the speech "set the tone for next year's general elections".
The Hindu too feels Mr Singh's speech "was an appeal for a third term for the Congress-led United Progressive Alliance (UPA) at the centre, as he responded to criticism by opposition parties of his policies on economy, foreign relations and security ahead of elections".
The speech was an appeal for a "third straight term" for the Congress-led coalition, says the NDTV website.
Hindi daily Jansatta also said that references made by Mr Singh to his government's attempts to boost progress and development schemes were made with an "eye on elections".
Meanwhile, India's TV watchdog, the Broadcasting Content Complaints Council (BCCC), has fined two channels for "transgression of programming codes and ethics", The Hindu reports.
The BCCC termed some of the shows aired on Big CBS Love and Big CBS Spark as being "indecent", "unpleasant" and "inappropriate", with the ministry of information and broadcasting adding that certain scenes from the shows aired on these channels "do not fit into the Indian system of values", the paper adds.
Fatal roads
A new report shows that Ludhiana and Amritsar in the northern state of Punjab top the list of cities with most fatal road accidents, The Times of India reports.
The report, prepared by the federal government's transport research wing, shows that Punjab roads are "proving to be fatal for commuters".
"Ludhiana and Amritsar are the worst examples. But the state as a whole is also losing over 4,800 lives in road accidents (every year). We have heterogeneous traffic, little enforcement of no-entry timings and huge problem of drunk driving," the paper quoted Dr Kamalzit Singh Soi, vice-chairman of Punjab Road Safety Council, as saying.
In sports, Hyderabad Hotshots' Saina Nehwal beat Awadh Warriors' PV Sindhu 21-19, 21-8 to give her team a crucial 2-0 lead in the first edition of the Indian Badminton League, the DNA newspaper reports.
The match was billed as "a big showdown" because Saina is India's number one player and Sindhu recently found fame with her maiden bronze-medal win at the World Championships in China.
Staying with sports, a revised draft of the Indian Olympic Association (IOA) constitution suggests that people facing corruption charges will not be able to hold any official posts in the body, the CNN-IBN website reports.
The change in the IOA's laws comes after widespread anger over corruption in the 2010 Delhi Commonwealth Games.
"This provision will effectively mean that officials like Suresh Kalmadi, Lalit Bhanot and VK Verma who had been charged in connection with the Commonwealth Games scam will not be able to contest IOA elections," the website adds.
And finally, at least 40 inmates of Delhi's Tihar jail received a special gift of "reduced prison terms" on Independence Day, The Hindu reports.
The decision means that those serving a sentence of up to one year will be freed 15 days earlier and inmates serving one year to five years will see 30 days reduced from their terms.
One of the beneficiaries of the scheme, Rajan Kumar, 36, who was released almost a month before finishing his sentence, did not inform his family, saying "it would be a pleasant surprise for them all, worth celebrating", the report added.
BBC Monitoring reports and analyses news from TV, radio, web and print media around the world. For more reports from BBC Monitoring, click here. You can follow BBC Monitoring on Twitter and Facebook.