India AgustaWestland helicopter deal is criticised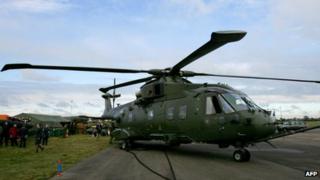 A helicopter deal at the centre of bribery allegations in India and Italy has come under fire in an official parliamentary report.
India's federal auditor suggests the government may have paid too much for 12 helicopters from Anglo-Italian company AgustaWestland.
Procurement procedures designed to ensure value for money were not properly followed, the report says.
Bribery allegations surrounding the 2010 deal first emerged in February.
The auditors accused the government of breaking its own procurement rules to award the $748m (£484m)contract to the firm.
The deal to purchase the luxury helicopters - for use by VIPs - came under scrutiny after investigators in Italy said that they were probing allegations that AgustaWestland, part of Italy's Finmeccanica conglomerate, paid bribes to foreign officials.
Former AgustaWestland CEO Bruno Spagnolini and former Finmeccanica Chairman Giuseppe Orsi are being tried in Italy over the accusations. Both deny any wrongdoing.
The Comptroller and Auditor General of India's report, formally presented in parliament on Tuesday, said that the defence ministry "deviated from procurement procedure and tender on several instances in the deal".
"The benchmarked cost adopted by the contract negotiating committee was unreasonably high compared to the offer cost," the report said.
"Hence it provided no realistic basis for obtaining an assurance about the reasonableness of the cost of procurement of AW101 helicopters."
Elite squadron
Correspondents say that the report piles further pressure on India's embattled Congress-led coalition government which has been at the centre of numerous corruption allegations in the run-up to elections next year.
India froze payments to AgustaWestland in February as the scandal unfolded. It had taken delivery of three helicopters before the deal was postponed.
In March Indian police raided the home of the former air force chief SP Tyagi over his alleged role in the deal.
Mr Tyagi denied charges that he or any of his relatives were paid bribes.
India signed an agreement in February 2010 to purchase the three-engine AW-101 helicopters for an elite squadron of the Indian Air Force which transports the president, the prime minister and other VIPs.