Indian-built Arihant nuclear submarine activated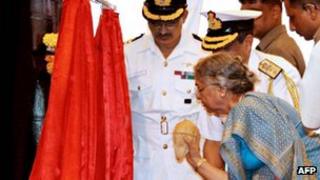 India has activated the reactor on board the INS Arihant nuclear submarine, the first to be designed and built in India.
The move means the submarine can now undergo sea trials.
Prime Minister Manmohan Singh hailed the "giant stride in... our indigenous technological capabilities".
Experts say is the first ballistic missile submarine known to have been built outside the five recognised nuclear powers.
Last year, India rejoined those countries - the US, UK, France, Russia and China - in being an operator of nuclear-powered submarines when it formally commissioned a Russian-built submarine into its navy.
Nuclear submarines will add a third dimension to India's defence capability, as it has previously only been able to launch ballistic missiles from the air and from land.
Assuming its sea trials are completed successfully, India's new nuclear-powered submarine could be operational within the next two years, the BBC's Jonathan Marcus reports.
Russian alliance
When it is eventually deployed, the Arihant will be able to carry a crew of about 100 sailors on board.
It will be able to stay under water for long periods and thereby increase its chances of remaining undetected.
By contrast, India's ageing conventional diesel-powered submarines need to surface frequently to recharge their batteries.
Last year India leased the Russian-built nuclear-powered submarine the INS Chakra for the next 10 years at a cost of about $1bn (£630m).
India had previously operated a Soviet nuclear submarine until 1991.
India and Russia are long-time allies, and Russia supplies 70% of India's military hardware.
Russia is also expected to help India train the Arihant's crew. The crew of the Chakra underwent their training in a secretive programme in St Petersburg.