India buffalo sells for 'record-breaking' $41,000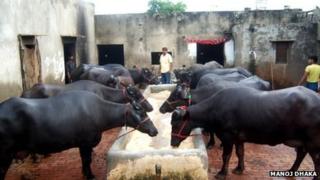 A farmer in the northern Indian state of Haryana says he has sold a buffalo for what is believed to be record-breaking 2.5 million rupees ($41,000).
Kapoor Singh told the BBC he sold his Murrah buffalo named Lakshmi to a farmer from Andhra Pradesh state.
The Murrah breed of water buffalo is much in demand for its high milk yield and normally costs between 100,000 rupees and 250,000 rupees.
They are highly coveted and their owners take a lot of pride in them.
For the price that Lakshmi was sold for it would be possible to buy a small luxury car.
Mr Singh, who lives in Singhwa Khas village in Hisar district, said he bought Lakshmi for 250,000 rupees ($4,100; £2,650) two years ago.
He said because she was a "special" buffalo - who yielded up to 28 litres of milk every day and won several prizes for producing record amounts - he was able to sell her for 10 times the price he bought her.
"I didn't want to sell her, but the new owner offered me the price I asked for. He had come last year and offered me 190,000 rupees, but I refused. He liked the buffalo so much that he made a video film on her and showed it in his village," Mr Singh said.
"I am very happy that I got the price I wanted. I will use the money for my daughter's marriage."
Kapoor Singh said Lakshmi will leave her village with her new owner, Rajiv Sarpanch, on Sunday.
Mr Sarpanch has been quoted as telling Hindustan Times newspaper that he is planning to make her participate in Andhra Pradesh's "best cattle contest" in January next year where the winner will get a kilogram of gold.