Indian media: 'Historic' hockey triumph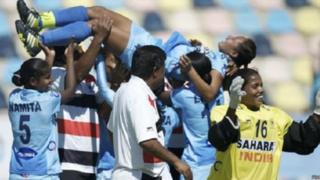 Media are celebrating the "historic" bronze-medal win of India's women's hockey team at the Junior World Cup in Germany.
India beat England 3-2 on penalties to win their "first-ever" medal in the competition on Sunday.
"For years, they have… suffered one heavy defeat followed by a heavier one at major international tournaments. Finally, there is something to cheer for," says The Indian Express.
"Indian girls created history", The Hindu says and then goes on to describe how 18-year-old striker Rani "scored India's only goal in regulation time and then found the net twice in the penalty shootout to script India's memorable victory".
The Times of India says the team "held their nerves" and "showed maturity beyond their age in the thrilling match".
India "has surprised top teams in the competition and they finished their campaign in superb manner", adds the DNA newspaper.
Newspapers are also discussing the standoff between the ruling Congress party and regional Samajwadi Party (SP) over the "controversial" suspension of a civil servant in the north Indian state of Uttar Pradesh.
The SP-led state government suspended Durga Shakti Nagpal on 27 July, saying she approved the demolition of a mosque wall in Gautam Buddh Nagar district "without following the due process".
However, the media widely see the suspension as a punishment for Ms Nagpal for acting against a "mafia" engaged in smuggling sand in the state.
The suspension took a political turn when Congress chief Sonia Gandhi declared her support for Ms Nagpal on Friday, leaving the SP fuming and declaring that it may not vote in favour of a crucial food security bill in the parliament, The Pioneer reports.
Love on course
Meanwhile, Indian newspapers, including The Hindu, are reporting that Chinese troops have blocked the Indian Army from patrolling posts along the two countries' disputed border in the northern Ladakh region.
In news on environment, The Pioneer reports that researchers have found evidence to prove that connecting different forest corridors (specified tiger zones) can help protect tigers in India.
Researchers at the Smithsonian Conservation Biology Institute in Washington found that tigers usually travel between 100-375km (62-233 miles) to mate, promoting a healthy genetic exchange.
But the study also depicts how construction and mining activities are hampering the animal's free and frequent movement between jungle corridors.
And finally, students at Calcutta's Presidency University will soon be studying "love" as a subject, The Hindu reports.
Malabika Sarkar, the university's vice-chancellor, says the course will cover a wide range of representations of love in various philosophical works as well as in works of literature and "it will not be a course about love stories, but an academic course".
BBC Monitoring reports and analyses news from TV, radio, web and print media around the world. For more reports from BBC Monitoring, click here. You can follow BBC Monitoring on Twitter and Facebook.