Indian media: Telangana's 'domino effect'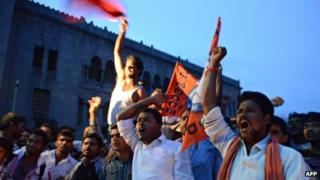 Media feel the government's decision to create a new state in the Telangana region of southern India may have a "domino effect", fuelling demands for separate states from other parts of the country.
The ruling Congress party-led coalition on Tuesday unanimously agreed to the formation of Telangana state, which will be carved out from Andhra Pradesh.
Newspapers feel demands for more independent states - such as Gorkhaland, Vidarbha, Bodoland, Poorvanchal and Vindhya Pradesh - will grow louder after this decision.
"This is going to be a fractious and expensive proposition. Much of course will depend on the success or otherwise of the Telangana experiment. But having conceded on Telangana, the centre [federal government] has no choice but to ensure a fair hearing for similar demands from other states," says the Hindustan Times in an editorial.
The Times of India feels the move could spark "a backlash from proponents of a united Andhra Pradesh, unleashing turmoil. Claims regarding the exclusive status of Hyderabad will remain a flashpoint for many years. But the most important political repercussions will be in other states where regional aspirants have laid new claims for statehood".
The Indian Express says the Congress party's decision "appears more like a desperate attempt to hold its own in the state by the limited strategy of distracting from its political failures", and adds that the decision does not "follow from proper homework".
"For Congress, conceding the demand for Telangana state may have a domino effect with more regions demanding statehood," says the business daily Mint.
Moving on to international news, India has decided to restore the supply of subsidised gas to its key ally Bhutan from 1 August, the India Today website reports.
India's decision to stop the subsidised supply ahead of Bhutan's national election on 13 July had sparked speculation that it was linked to Bhutan's growing "proximity" with China, the paper adds.
Pakistan president's India link
Meanwhile, papers are also highlighting India's connection to Pakistan's newly-elected President Mamnoon Hussain.
Mr Hussain, 73, was born in the northern Indian city of Agra and migrated to Pakistan during the partition in 1947, the Hindustan Times says.
He has already received an invitation to visit from Subham Soneja, who runs a bakery from what was once Mr Hussain's ancestral home in Agra, the Deccan Herald reports.
And in disappointing news for motorsports fans, Formula 1 chief Bernie Ecclestone has confirmed that there will be no Indian Grand Prix in 2014, the Deccan Chronicle reports.
However, the race is likely to return to India in early 2015, it adds.
Meanwhile, a lake in the western city of Pune has been brought back to life as a result of collaboration between environment bodies, experts and municipal authorities, reports The Indian Express.
The paper says that several species of birds have "come back home" to Pashan lake after a gap of over two decades due to the "eco-restoration" work.
BBC Monitoring reports and analyses news from TV, radio, web and print media around the world. For more reports from BBC Monitoring, click here. You can follow BBC Monitoring on Twitter and Facebook.