India's Batla House case: Shahzad Ahmad jailed for life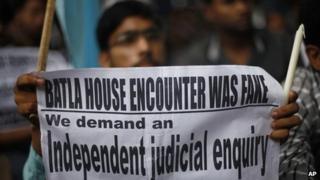 A young Indian Muslim man found guilty of killing a police inspector in 2008 has been sentenced to life in jail.
Shahzad Ahmad was convicted last week of killing Inspector Mohan Chand Sharma when police raided a building in Delhi's Batla House area.
Police say Ahmad is a militant from the Indian Mujahideen group and have accused him of involvement in the 2008 Delhi blasts which killed 26 people.
Ahmad's lawyer says he was not in the apartment at the time of the clash.
The controversial case is known locally as the Batla House "encounter" case.
Two residents of the building were also killed in the 19 September clash, as well as Inspector Sharma.
The shootings followed the 13 September serial blasts at busy shopping centres in Delhi.
The prosecution had demanded the death penalty for Ahmad, saying his crime was a "rarest of rare case".
Questions raised
Last Thursday, the sessions court in Delhi found Ahmad guilty of murder and attempted murder, as well as obstructing and assaulting public servants. He was also found guilty of destroying evidence.
Over the years, questions have been raised by politicians and activists about the case, with many alleging that it was staged.
Although Ahmad's lawyer has maintained that he was not present in Batla House at the time of the encounter, police say they have "circumstantial evidence" and phone records to prove that he was there.
They allege that he escaped after firing at the police.
Ahmad was arrested on 1 January 2010 from his village in Azamgarh district in the northern state of Uttar Pradesh.