India farmers protest over 'insulting' compensation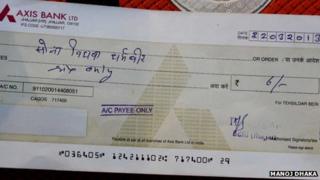 Farmers in India's Haryana state are angry after receiving compensation for as little as two rupees (three cents) for crops damaged by rain in 2011.
Many have called the paltry amount "insulting" and are refusing to cash the cheques they received from the government.
Opposition parties have also criticised the compensation, calling it a "cruel joke" on the farmers.
Authorities say the government has been fair in awarding compensation.
Chief Minister Bhupinder Singh Hooda said his government had distributed 11.4m rupees ($193,085; £125,871) as compensation to farmers after setting the rate at 3,500 rupees per acre.
Many farmers, however, are in possession of cheques which show the amount to be between two rupees and six rupees.
They say it will cost them more to cash the cheques - they will have travel to the nearest town to get to the bank and many who do not have accounts will have to open one.
Heavy rains and flooding in the state's Jhajjar district in 2011 had damaged wheat crops of many farmers and the state government had ordered a survey to assess their losses.