India landslide: Seven killed in Uttarakhand landslide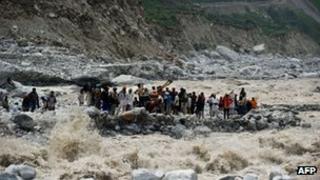 Seven family members have been killed in a landslide in India's Uttarakhand state, where floods and landslides left more than 800 dead last month.
Officials say a house collapsed after a landslide in Chamoli district, leading to the deaths.
Heavy rains continue in the state, where over 4,000 people are reported to be missing after the floods.
This year's monsoon rains in Uttarakhand are believed to be the heaviest in 80 years.
Swollen rivers have swept away entire villages in the state, where there have been many travellers in what is peak tourist season. Tens of thousands of people, mostly tourists and Hindu pilgrims, have been evacuated by military helicopters.
Senior Chamoli official Sanjay Kumar told the Press Trust of India news agency that the landslide early on Wednesday happened after incessant rains lashed the area during the night.
He said the dead in the house collapse included two women and three children.
Meanwhile, the administration is struggling to provide relief to communities in remote areas where thousands who lost their homes in last month's floods are living in temporary camps.