Indian Supreme Court bars convicted lawmakers from office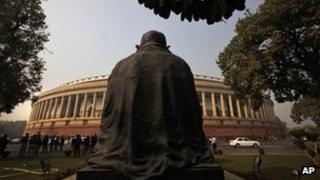 Indian lawmakers convicted of serious crimes will be removed from office under a landmark Supreme Court ruling.
Federal and state assembly members would be barred from elections if found guilty of offences carrying a jail term of at least two years, judges said.
Campaigners called it a major step in cleaning up Indian politics, which has been beset by corruption scandals.
More than 150 MPs in the 543-seat lower house of parliament are said to be facing criminal charges.
The Association for Democratic Reforms election watchdog says across the country there are 1,460 serving lawmakers facing criminal charges.
The data is based on information provided by politicians to the Election Commission before submitting themselves to the electorate. Research suggests 15 MPs face at least one murder charge.
'Milestone'
Until now Indian politicians convicted of crimes have kept their jobs while pursuing appeals which can go on for years.
But the Supreme Court ruled that would no longer be allowed, striking down Section 8(4) of the Representation of the Peoples Act.
The judges made clear that disqualification from office "takes place from the date of conviction".
"If a [convicted] person has no right to vote, he has no right to contest," Judges AK Patnaik and SJ Mukhopadhyay ruled.
The judgement will not affect lawmakers who have already filed appeals - just those convicted in future.
India's main parties officially welcomed the ruling, but the government said it was studying it and might appeal.
Reports say some parties fear the verdict could be misused to settle scores.
But Anil Bairwal, the national coordinator of the Association for Democratic Reforms, said the ruling was "a significant step towards cleaning up politics".
"This is a milestone for Indian politics. If you are convicted of a crime from now on, you don't have the right to be in politics," he told AFP news agency.