Bodh Gaya: Man detained for India Buddhist shrine blasts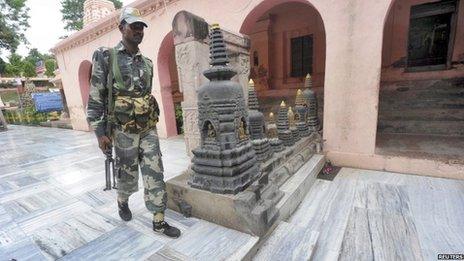 Federal investigators in India have detained a man in connection with the series of blasts on Sunday at India's holiest Buddhist shrine.
Two people were injured in nine explosions at the Bodh Gaya temple complex in Bihar state.
Junior home minister RPN Singh said the blasts "seem like a terror attack". No group has said it was responsible.
The world-famous temple is a Unesco World Heritage Site visited by thousands of pilgrims each year.
"One suspect hailing from Barachatti area in Gaya district has been detained and we are questioning him," Press Trust of India quoted senior police officer Nayyer Hasnain Khan as saying on Monday.
Police said they were analysing the security camera footage from the temple which showed two men who appeared to be planting explosives at the site.
Four blasts took place inside the temple complex, three in a neighbouring monastery, and one each near a Buddha statue and a bus stand, Bihar police officials said on Sunday.
"I had been meditating for 10 minutes when there was a loud sound. My face and my hand hurt as I tried to make my way to the gate," Vilsagga, a student monk who was injured in the attack, told The Hindu newspaper.
A small cylinder containing explosives has been found under the Bodhi tree, thought to be a descendant of the one that the Buddha sat under when he achieved enlightenment, according to tradition.
Police said there was no damage to the tree.
India's government has sent out an alert to eight cities, including the capital, Delhi, to secure local Buddhist shrines and places of worship, reports say.
Bihar's Chief Minister Nitish Kumar said the blasts "deserve strongest condemnation in strongest possible words as the perpetrators targeted the place of religious faith of people with an aim to create fear among them".
Correspondents say attacks on Buddhists are rare in India, but there have been recent Muslim-Buddhist tensions in nearby Burma (also known as Myanmar), Sri Lanka and Bangladesh.