India launches huge cheap food programme ahead of election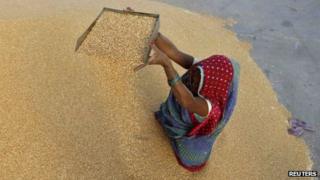 The Indian government has launched a giant programme to provide subsidised food to two-thirds of the population.
The food security ordinance will provide 5kg of cheap grain every month to nearly 800 million poor people.
Ministers were criticised for passing the measure as an ordinance, after failing to win parliamentary support.
Critics say the plan is a political move to win votes and will drain India's finances. Supporters say it will help reduce poverty.
"The union cabinet has approved the food security ordinance unanimously," Food Minister KV Thomas told reporters after the cabinet meeting.
He said the measure would be sent to India's president for approval later on Wednesday, meaning it will come into law immediately. But it must eventually be ratified by parliament.
Malnutrition
The ambitious National Food Security Bill is being called one of the world's largest welfare schemes.
It was an election promise made by the ruling Congress party and, correspondents say, its implementation will help the party in general elections due next year.
But the scheme is intended to combat hunger - despite impressive economic growth in recent years, India still struggles to feed its population. It has more malnourished children than any other country in the world.
The bill proposes to provide a kilo of rice at three rupees (six cents; four pence), wheat at two rupees and millet at one rupee.
The measure will apply to 75% of Indians living in rural areas and 50% of the urban population, the BBC's Sanjoy Majumder in Delhi says.
Supporters say it will go a long way in reducing poverty, especially in parts of the country which are worse off than sub-Saharan Africa, our correspondent reports.
But there are many economists who question how India can fund the expensive scheme, which will see the country's annual food subsidy bill double to more than 1.3 trillion rupees ($23.9bn; £15.8bn). The government insists money will not be a problem.
Opponents of the scheme also criticise the method of delivering the food - via India's notoriously corrupt and inefficient state-owned cheap food ration shops.
Many politicians criticised the move to push through the bill as an ordinance rather than putting it to a vote by MPs.
The government says it made several efforts to make sure the bill was discussed, but it was not debated amid disruption in parliament.
The ordinance will be put before parliament to be ratified within six weeks of its first sitting, the government says. Last month, the government said a special session could be called to pass it into law.