Three Indians killed in Kabul suicide attack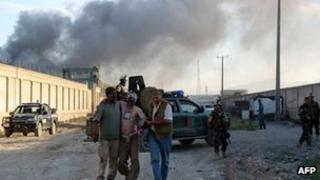 Three Indian workers were among at least 10 people who died in Tuesday's suicide attack on the Kabul base of a logistics firm supplying Nato forces in Afghanistan.
The men "were working in [a] housing compound," the foreign ministry said.
A Scottish security contractor, four Nepali guards and two Afghan drivers were also killed in the attack.
The attack was the latest in a series on key strategic targets in the Afghan capital in recent months.
Last week, Afghan security forces dealt with a militant gun and bomb attack near the presidential palace, in one of the most secure areas of Kabul.
India has a strong relationship with Afghanistan, building and managing several infrastructure projects.
The Indian embassy in Kabul has been attacked twice - in 2008 and 2009 - with dozens of people killed.
On Tuesday, four insurgents entered the Nato compound after detonating a powerful truck bomb, the Afghan interior ministry said.
Afghan security forces fought the insurgents in the ensuing gunbattle that lasted about 30 minutes, the BBC's Bilal Sarwary in Kabul says.
The Taliban say they carried out that attack.
Last month, Afghan forces assumed security responsibility for the whole of the country for the first time since the Taliban government was ousted in 2001.
International troops will remain in Afghanistan until the end of 2014, providing military back-up when needed.