Manipur king ends fast against palace eviction move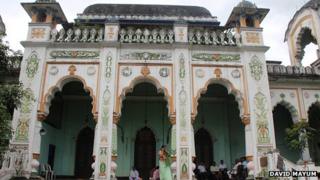 The titular king of India's Manipur state has withdrawn his hunger strike in protest against the state government's decision to evict him from his ancestral palace.
An aide to Leishemba Sanajaoba said he would hold talks with the government. He began his fast on 24 June.
The government wants to renovate the palace and turn it into a tourist site.
But aides say this is a violation of an agreement between the royal family and the state government.
Puyam Tomcha, the royal advisor, told the BBC that King Sanajaoba broke his fast after being requested to do so by several women's groups and non-governmental organisations.
"They wanted the king to stop the hunger strike and start a dialogue with the Manipur government. The king heeded their request," he said.
Aides to the king say the government's decision to take over the Sana Konung palace and surrounding land and develop it as a heritage site is in violation of a 2006 agreement between the once powerful royal family and the state government.
"The memorandum between the two clearly said that no decision would be taken about the palace without his consent," Mr Tomcha said.
The government argues that much of the land around the palace has lost its traditional character because it was sold by the former King Okendra and used for construction of high-rise buildings.
The Manipur royal family occupied the Kangla palace after the 1891 Anglo-Manipur War and built the Sana Konung for the royals to live in.
Later, it became a military headquarters, housing the paramilitary Assam Rifles, after the state joined the Indian federation.
However, the royals, who now have little real power or influence, continue to live in the palace.