India floods: Cremations begin in Uttarakhand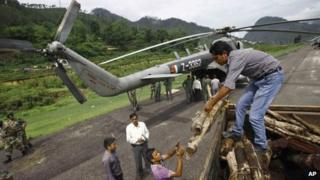 Cremations have begun in the northern Indian state of Uttarakhand where more than 800 people have died in floods and landslides.
There have been delays because of bad weather, but at least 18 bodies were cremated in the temple town of Kedarnath on Wednesday, officials said.
Aid agencies are warning of a possible threat of disease in relief camps.
Rescue teams are still battling to reach thousands stranded in the Himalayas 11 days after flooding began.
Nearly 100,000 people have been evacuated so far, with the military continuing helicopter flights into the mountains to reach several thousand Hindu pilgrims and tourists who remain there.
Twenty people are now confirmed dead in Tuesday's rescue helicopter crash near a pilgrimage site, the military says.
Soldiers using ropes reached the crash site on Wednesday and found the bodies of 20 people, five of them air force crew members, Air Chief Marshal NAK Browne told reporters.
This year's early monsoon rains in the Uttarakhand region are believed to be the heaviest in 80 years. Swollen rivers have swept away entire villages in the state, where there were many travellers in what is peak tourist season.
Officials say the toll could rise as more bodies are found in remote areas.
Decomposing bodies
In Kedarnath, the area worst hit by the floods and landslides, officials said more cremations were to follow on Thursday. Police played down reports that 200 people had been cremated in recent days.
Air force helicopters have been dropping items like wood and clarified butter, which are essential for conducting last rites at Hindu funerals.
Over the past few days, forensic experts have taken DNA samples and photographed the bodies because many of them remain unidentified.
Many bodies are believed to be buried in the mud and rescue workers are trying to get them out.
Authorities have transported firewood and fuel, and flown in Hindu priests to Kedarnath for the mass funerals.
The focus is also now shifting on providing food and medicines to thousands of local villagers who are staying in temporary camps in the mountains, the BBC's Sanjoy Majumder reports from the town of Rishikesh in Uttarakhand.
Outside Dehradun airport, distraught relatives clutching photographs of missing family members have been waiting for days, hoping for news.
Prime Minister Manmohan Singh has described the situation as "distressing" and announced a 10bn rupee ($170m; £127m) aid package for Uttarakhand.
Every summer, hundreds of thousands of devout Hindus make a pilgrimage known as the Himalayan Char Dham Yatra to four temple towns in Uttarakhand.
The pilgrims usually return before the monsoon rains, which generally begin in July.