Eight new faces in Indian cabinet reshuffle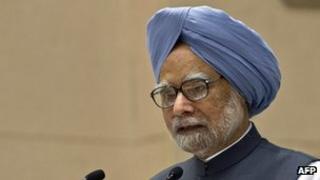 Eight new ministers have been sworn into India's cabinet in what is being seen as the final reshuffle before elections due next year.
PM Manmohan Singh appointed Mallikarjun Kharge as railways minister.
Oscar Fernandes has been given the roads ministry and Sis Ram Ola the labour ministry: Both are veteran politicians.
The moves are being seen as an attempt to re-energise the Congress Party-led government ahead of the 2014 polls.
Girija Vyas, former head of the National Commission of Women, has been given the housing, urban development and poverty alleviation portfolio.
With the eight new ministers the size of the cabinet, known as the Union Council of Ministers, has increased to 77.
Mr Kharge was previously in charge of the labour and employment ministry.
The reshuffle comes after two senior ministers, CP Joshi and Ajay Maken, resigned over the weekend following directives from the party.
Positions vacant
Apart from Mr Joshi and Mr Maken, vacancies in the cabinet have been created by the resignations of PK Bansal and Ashwani Kumar.
Mr Bansal quit as the railway minister after allegations of corruption involving his nephew and a senior bureaucrat in his ministry.
Mr Kumar resigned the law ministry following a controversy over an investigation into the allocation of coalfields. Both men deny any wrongdoing.
A number of positions in the cabinet have also been lying vacant since two prominent allies of the government, the regional Trinamool Congress and DMK parties, pulled out last year.
The Congress Party has been the dominant force in Indian politics for almost all of the past 66 years.
But since its re-election in 2009, it has been tainted by allegations of corruption and the mis-selling of national assets.