India considers special parliament session on food security bill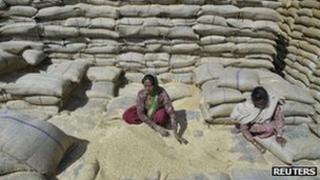 The Indian government is considering convening a special session of parliament to pass a bill to subsidise food for two-thirds of the population.
The bill was tabled in parliament earlier this year but disruptions meant it could not be debated.
The government, eager to make it law, had been criticised for trying to push it through as an ordinance.
But it now says renewed efforts will be made to get opposition support for a bill, which could then be voted on.
The Food Security Bill proposes to make food a legal right and seeks to provide 5kg of grain every month to 800 million poor people.
The bill was an election promise made by the ruling Congress party and, correspondents say, its implementation will help the party in general elections due next year.
Critics have described the bill as a political move aimed at winning votes and which is financially unviable, reports the BBC's Sanjoy Majumder in Delhi.
Analysts say that it is unclear if opposition parties will provide the support that the government seeks.
Millions live below the poverty line, and many children are malnourished in India.
The bill proposes to provide a kilo of rice at three rupees (six cents; four pence), wheat at two rupees and millet at one rupee.
The scheme is likely to cost 1.3 trillion rupees ($23.9bn; £15.8bn) every year.
Many politicians had criticised the move to push through the bill through as an ordinance rather than putting it to a vote in parliament. The government says it had made several efforts to make sure the bill was discussed.