Vidya Charan Shukla: India leader injured in Maoist attack dies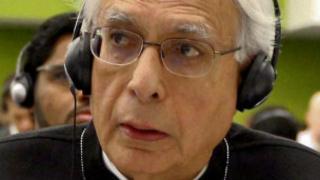 A senior Indian Congress party leader, who was critically injured in last month's attack by Maoist rebels in Chhattisgarh state, has died.
Vidya Charan Shukla, 84, died in a hospital in Gurgaon, near Delhi, where he was being treated, doctors said.
The attack on 25 May killed 27 people, including some top state politicians.
Chhattisgarh Congress party chief Nandkumar Patel, his son, and local leader Mahendra Karma were among those killed in the attack.
The politicians were returning from a campaign rally.
Mr Shukla, a former minister in the Indian government, was among the dozens wounded in the ambush. He was brought to the Gurgaon hospital a day after the attack.
"Mr Shukla died at 14:38 India time [09:08GMT]," Yatin Mehta of the Medanta Medicity Hospital said on Tuesday.
He said Mr Shukla developed multiple organ failure and that the severe bullet injury and his advanced age were major risk factors in his case.
Maoist rebels, also known as "Naxalites", have been operating in central and eastern India for the past four decades.
They demand land and jobs for the poor, and ultimately want to establish a "communist society" by overthrowing India's "semi-colonial, semi-feudal" form of rule.
The rebels said last month's attack was to protest against the government's "anti-people policies".
The convoy carrying state Congress leaders and party workers was ambushed as it travelled through the Darba Ghati valley, in the Sukma area about 345km (215 miles) south of the state capital, Raipur.
Police said the convoy was first forced to stop by felled trees on the road. At least one vehicle at the front of the convoy was then hit by a land-mine blast before as many as 200 suspected rebels opened fire, they added.