HRW warns against India telecoms monitoring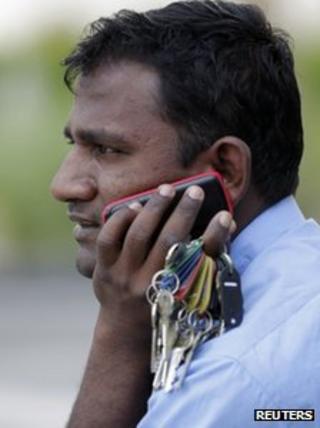 A new system to monitor all phone and internet connections in India threatens privacy and free expression, warns the campaign group Human Rights Watch.
It says India's privacy laws are not strong enough to protect people from such potentially invasive powers.
In April, India rolled out the Central Monitoring System (CMS) which gives the government sweeping access to the country's telecommunications network.
Authorities say they will not break any laws while intercepting information.
In December 2012, the then information technology minister Milind Deora told the parliament that the monitoring system will "lawfully intercept internet and telephone services".
"The Indian government's centralised monitoring is chilling, given its reckless and irresponsible use of the sedition and internet laws," senior internet researcher at HRW Cynthia Wong said in a statement.
"New surveillance capabilities have been used around the world to target critics, journalists, and human rights activists," the statement added.
Indian privacy and internet freedom campaigners have already criticised the CMS and expressed fears that the government could end up snooping on people.
In recent months, the authorities have been criticised for arresting people for comments on social networking and other internet sites.
In November last year, a woman was arrested for her comment following the death of politician Bal Thackeray. Her friend who "liked" the comment, was also arrested. The two were later released on bail.
In October, Ravi Srinivasan, a 46-year-old businessman in Pondicherry, was arrested for a tweet criticising Karti Chidambaram, son of Indian Finance Minister P Chidambaram. He too was later released on bail.
Earlier in April, the West Bengal government arrested Professor Ambikesh Mahapatra, a teacher who had emailed to friends a cartoon that was critical of Chief Minister Mamata Banerjee. He was later released on bail.
Their arrests led to an outrage in India with critics accusing the government of "abuse of authority".