Sachin Tendulkar announces retirement from IPL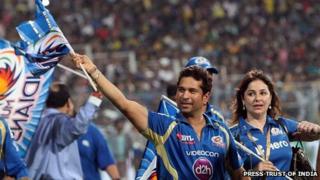 Cricket star Sachin Tendulkar has announced his retirement from the Indian Premier League (IPL) tournament.
"I think this is the right time to stop playing the IPL. I am 40. Got to accept it," Tendulkar said.
The announcement came moments after his team Mumbai Indians lifted their first IPL title on Sunday night, beating the Chennai Super Kings by 23 runs.
The IPL has been dogged by controversy with allegations of spot-fixing against several cricketers and team owners.
In the last fortnight, three bowlers from Rajasthan Royals team and the owner of the Chennai Super Kings team have been arrested.
The tournament's final match was played in the eastern city of Calcutta.
"This is my last IPL," Tendulkar said in a television interview after the match.
"This has been a fantastic season... I had decided this was my last season," he said.
Tendulkar, who turned 40 last month, has a huge fan base in India. He was the first cricketer to score 100 international centuries.
He also holds the record for more test runs than any other player (15,837) and more one-day international (ODI) runs than anyone else (18,426).
Earlier this month, limited edition gold coins with his face engraved on them were launched by an Indian jewellery company.