Rotavirus: India unveils cheap Rotavac diarrhoea vaccine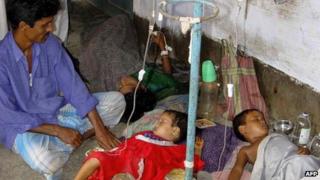 Scientists in India have unveiled a new low-cost vaccine against a deadly virus that kills about half a million children around the world each year.
Rotavirus causes dehydration and severe diarrhoea and spreads through contaminated hands and surfaces and is rampant in Asia and Africa.
India says clinical trials show the new vaccine, Rotavac, can save the lives of thousands of children annually.
An Indian manufacturer said the vaccine would cost 54 rupees ($1; £0.65).
International pharmaceutical companies GlaxoSmithKline and Merck produce similar vaccines but each dose costs around 1,000 rupees.
"This is an important scientific breakthrough against rotavirus infections, the most severe and lethal cause of childhood diarrhoea, responsible for approximately 100,000 deaths of small children in India each year," India's Department of Biotechnology official K Vijay Raghavan said.
"The clinical results indicate that the vaccine, if licensed, could save the lives of thousands of children each year in India," he added.
Rotavac will be made by Hyderabad-based Bharat Biotech. The company said it could mass-produce tens of millions of doses after clearance is given, expected in eight or nine months.