India demands justice over 'spy' Sarabjit Singh's death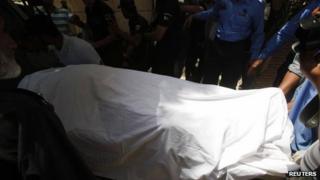 Indian Prime Minister Manmohan Singh has demanded those responsible for the death in a Pakistani jail of Sarabjit Singh, an Indian man convicted of spying, be brought to justice.
Sarabjit Singh died after being attacked with bricks by other inmates in Lahore's Kot Lakhpat jail last Friday.
He had been sentenced to death by a court in Pakistan in 1991.
Mr Singh's body was flown to India from Lahore on Thursday.
Indian foreign ministry spokesman Syed Akbaruddin earlier said it was "our primary focus" to ensure that Mr Singh's body was returned to India and given a proper burial.
His body was flown to the city of Amritsar on a specially chartered plane. India's government has said it will give him a state funeral in Punjab.
Before the flight, a six-member medical panel carried out a post mortem examination at Jinnah Hospital in Lahore.
'Brave son of India'
In a statement, Manmohan Singh called Sarabjit Singh "a brave son of India" and said the attack was "barbaric".
"It is particularly regrettable that the government of Pakistan did not heed the pleas of the government of India, Sarabjit's family and of civil society in India and Pakistan to take a humanitarian view of this case," he added.
Sarabjit Singh fell into a coma and died at 01:00 on Thursday morning (20:00 Wednesday GMT) in Lahore's Jinnah hospital.
He had been sentenced to death for spying and his role in bomb attacks that killed 14 people in Pakistan in 1990.
Sarabjit Singh's family, who had only just returned to India after visiting him in hospital, always insisted he was innocent and had strayed into Pakistan by mistake when he was arrested.
But mercy petitions were rejected by Pakistani courts and former President Pervez Musharraf.
Sarabjit Singh's sister Dalbir Kaur called her brother's death "a murder by Pakistan", according to the Associated Press.
Ms Kaur said she would continue to fight for the release of other Indian prisoners in Pakistani jails.
India had appealed for Sarabjit Singh, 49, to be released or transferred to India over concerns about his treatment following his attack. He had sustained several serious injuries, including a fractured skull.
The Pakistani foreign ministry said that Sarabjit Singh had received "the best treatment available" and that "medical staff at Jinnah Hospital had been working round the clock... to save his life".
Espionage accusations
The issue risks stirring fresh tensions in relations between the nuclear-armed neighbours and long-time rivals, correspondents say.
Strains had already increased in the past six months with the execution in India of Kashmiri Afzul Guru over the 2001 attack on India's parliament, and of Mohammed Ajmal Qasab, a Pakistani who was the sole surviving gunman from the 2008 Mumbai attacks.
Sarabjit Singh's lawyer Owais Sheikh said his client had received threats after Guru's execution.
Sarabjit Singh was attacked as he and other prisoners were brought out of their cells for a one-hour break.
Two inmates were charged with attempted murder and two officials suspended.
Pakistan and India frequently arrest each other's citizens, often accusing them of being spies after they have strayed across the land or maritime border.
In recent years, several Indians returning from Pakistani jails have admitted to spying.
Some have criticised India's government for abandoning them.